Home » Exercises
How to Squat With Proper Technique
Introduction to Squats
Squats are the most important workouts you will be focusing on during your training. The Squat can be a difficult exercise to do properly but in order to gain maximum results you will need to fully understand how to perform Squats with proper technique.
Benefits of Performing Squats with Proper Technique
The Squat is a full body exercise that works not only your legs but also your core muscles, back, and arms.
Squats can help with:
Building Muscle – Increasing the weight that you perform with Squats will increase the stress on your muscles and body. More stress means more muscle.
Flexibility – Many of us neglect our hip flexibility but with proper Squat training and hip flexibility exercises you will be able to maintain your flexibility.
Strength – Squats not only increase your leg strength but also your overall strength. Increasing your squat power will carry over to all other major exercises and allow you to lift more weight.
The Squat
With the barbell on your back, chest high, and feet shoulder width apart, bend though the knees until your hips are lower then your knee joints. Now push from your heels, squeeze your glutes, and return to the starting position.
Before you start (warm-up)
If you have poor flexibility you should warm up with squat stretches. If you don't know how to perform squat stretches check out Mehdi's article here
Squat Setup
Feet – your feet should be shoulder width apart and set at 45Degree angle which is your natural body position.
Back – Make sure to keep your back straight and your chest out for entire exercise to maximize your results.
Bar – You will want to practice a few reps with no weight to find the position of the bar on your shoulders. It should be placed under your shoulder blades resting on the "trap" muscle. The lower the better.
Eyes – Make sure you are fully focused on a position directly in front of you, so while you are performing the squat you are still focused on that same eye position.
Wrists – Make sure you keep your wrists tight and firm, they should stay straight in-line with your forearms during the whole exercise. If you find this to be difficult then lower the weight.
Elbows – Be sure to keep your elbows back in the starting position while lowering the bar, and never let them come forward because this can cause you to blow a joint or worse.
Heels – When lowering the bar you need to keep a focus of the weight on your heels. Your natural position will be to put the weight on your toes but remember to push the weight from your heels. This is why you start with small weight and master the technique before adding weight.
Performing the Squat
Before you start the squat you will need to set up the bar height. You want the bar at the top of your chest, so when you dip underneath to setup for the exercise your body is in the squat stance. Next find your grip on the bar and place the bar on your upper back. Then slowly power yourself up into the front stance, take a step back and squat.
When Squatting down remember:
Knees out – Keeping your knees out helps avoid injury. Your knees should follow your feet which are at 30 degree angles. Your knees should also be over your toes.
Hips – As you bend your knees your hips should shift back. This will keep you more stable and also put less strain on your back.
Head – Don't look up at the ceiling. Keep your eyes and head pointed to a spot on the floor 6 to 10 feet from your position.
Full Squats – At the bottom of the Squat your hip joint should be lower then your knee joint. This is the safest way to squat. Don't do partial squats.
When Pushing up remember:
Drive your Hips – Use the momentum from squatting down to drive your hips straight back up. Don't use your knees.
Use your Glutes – As your move your hips back up, squeeze your glutes.
Use your Heels – Keep the weight on your heels as you push. If your having difficulty, putting a small weight under each set of toes or curl your toes.
Common Squat Problems
Performing the Squat with proper technique can be difficult if you do not have an experienced trainer who knows how to squat properly. I recommend taping yourself with a video camera so that you can critique your own squat technique with these important points.
Bent Wrists – Support the bar with your back, not your wrists. You will experience wrist pain when you add more weight if you do not keep them straight.
Knees In – By allowing your knees to buckle inwards you add stress to your knee joints and risk injury. Knees in is caused by weak adductors and the only cure for this is proper knees out squatting technique.
Knees Forward – Having your knees to far forward over your feet can be a result of trying to keep your back as vertical as possible. It's ok to lean over while you push your hips back.
Lifting with your chest – Remember to drive with your hips, don't lift with your chest from the bottom.
Squat Variations
There are many different variations of squats such as:
Front Squats
Olympic Squats
Overhead Squats
Box Squats
In this article we described Low Bar Squats. All squat variations are similar but each has their own slight differences in techniques. If you wish to read more information about Low Bar Squats and their benefits for fitness and sports I suggest you pick up a copy of Starting Strength by Mark Rippetoe
Squatting Safety
The key to squatting safely is proper technique. Keep the weight low until you master the techniques. I also recommend squatting in a power rack and with the help of a spotter.
Squat Video – Front View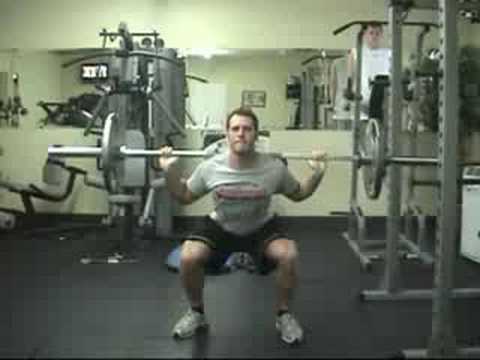 Relevant Links: