Home » Exercises
Proper Hand and Grip Position for the Bench Press
Proper Hand and Grip position is key for performing the bench press with proper technique. By knowing how to position your hands on the barbell will help you to efficiently and effectively increase your bench press strength but also help avoid dropping the bar on your chest. One of the most common mistakes beginners make when bench pressing is the thumbless grip.
Grip and Hand Position for Bench Press
Hand width. Your hands should be between 21-28 inches apart. With a closer grip you emphasie more of your tricep strength when you push the bar off your chest.
Grip. Grip the bar with your thumbs and fingers firmly wrapped around the bar. Keep the bar lower in your palm. Rotate your hands in slightly so that the bar does not rest in the top portion of your hand.
Wrists. Don't allow your hands to bend back while supporting the bar. Allow your hands to bend back slightly. This will also allow the bar to sit better in your palm.
Here's a video of what could happen if you use the thumbless grip when bench pressing: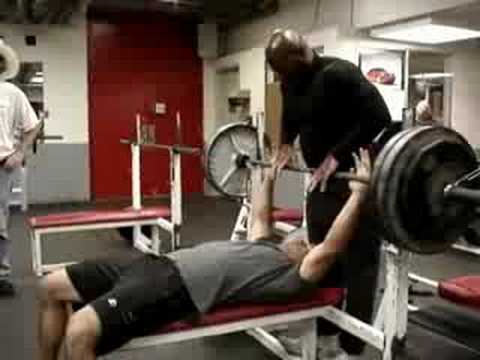 Don't make the same mistakte this poor fellow did. Lock your thumb around the bar and squeeze the bar firmly.
Relevant Links: