Home » Workout Plans
Barbell and Dumbbell Complex Routines
Need something to jump start your muscle building program? Or a way to take your fat loss to a new level? Then training using complexes may be your ticket to increased gains. In weightlifting circles, complexes (brought to fame by weightlifting coach Istvan Javorek) have been the cornerstone of a specific means of conditioning during all points of the training year. Complexes consist of doing a series of exercises with a barbell or dumbbell in continuous succession without letting go of the apparatus.
Here's a video by Istvan Javorek on various Complex exercises you can do: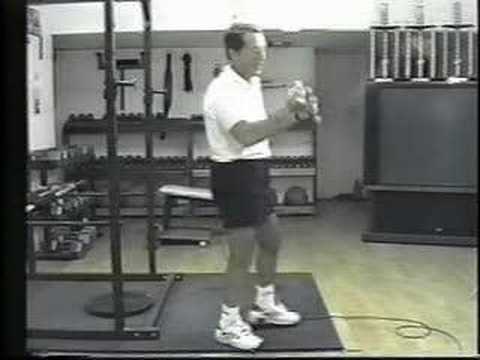 To do this you need to use submaximal loads given the extraordinary amount of repetitions being done. Seeing that complexes are derived from the "no frills" weightlifting community, you can expect a certain amount of hard work and attention to the multi-joint movements that form certain elements of the competitive lifts themselves.
Unlike the training of competitive weightlifters these complexes do not require years of practice to master optimal technique. Instead, these complexes will benefit you right away as an efficient way to loose weight and build muscle. Without any further introduction here are some easy to do complexes that are sure to spark better gains.
Newbie complex:
1) Clean grip high pull from thigh 10 reps, shoulder bar then…
2) Front squat 10 reps, keep bar on shoulders then…
3) Overhead press 10 reps, place bar on ground and…
4) Barbell Rollout 10 reps
Double-time complex:
1) Snatch grip high pull from thigh 10 reps, into…
2) Power Snatch from thigh 10 reps, place bar on back and…
3) Back squat 10 reps, into…
4) Behind the neck press 10 reps, into…
5) Good morning 10 reps, into…
6) Saxon bend 10 each side, place bar on ground…
7) Barbell rollouts 10 reps
Relevant Links: